Here are some things I bought recently on Etsy: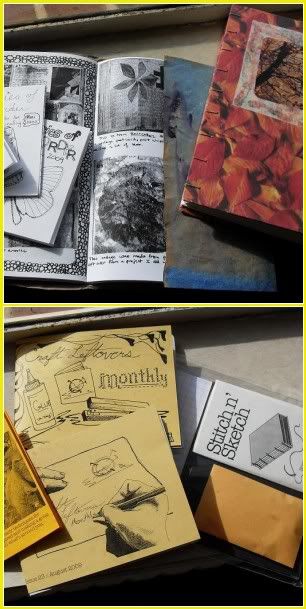 First, we have some zines and a handmade journal from
Sparkle Blue Faery
. I'm so glad she's started posting her art journal entries in
her blog
. I love her work - it's nature-based and has an authentic feel. She added in some extra zines and art materials as I was a repeat buyer. I was so thrilled when I opened the parcel! I'm torn between racing through the zines and reading them slowly to make them last longer.
The second photo shows some zines and a bookbinding kit from
Craft Leftovers
. Kristen puts out a zine and kit every month, but these are the first I've purchased. Her zines have a how-to theme, with a different craft featured each month. The zine-and-kit combos sell out pretty quickly, but back issues of zine only can be bought any time. I'm still deciding if I want any of the back issues. And, er, yes, that is an accidental but very lovingly-applied wine stain on the cover of the top one.
I've been home sick the last two days, and, throbbing head and burning throat aside, I've really enjoyed reading and pottering around and reading and a little writing, which I'm sure hasn't made any sense. If this post doesn't make any sense either, then I apologise.