I'm a complete sucker for a cat-in-need story, and when I heard that Etsy indie beauty shop owner Jill was raising money for her cat Roland's vet bills, I just couldn't resist making a purchase. (~~Note: I placed my order a few months ago, so the promotion is over now.~~)
Ananda Beauty
stocks a range of hand-made tinted lip balms, mineral eyeshadows and eyeliners, hair balm and other goodies. All products are vegan and tested on humans only. The aesthetic is metallic and sparkly, with shades of grey, bronze, peach, red and pink.
I chose the Lip Tint in Ripe Shimma, Hair & Body Balm in Woodsy Scent, and three eye products: Cumulus and Taupe Eyeshadows, and Black Amber Eyeliner powder. Ordering through Etsy was easy and safe as always - the hardest part was choosing which colours I wanted most! The order arrived quickly. My parcel was carefully packed in a bubble-wrap-lined bag, and the items were wrapped in sophisticated black tissue paper, with a lovely thank you note. There were also 4 free samples, which is very generous: Raw Brass and Blue Velvet eyeshadows, Rosalina Highlighter and Sunset Blush. They are all colours that I can see myself using, so thank you to Jill for choosing well!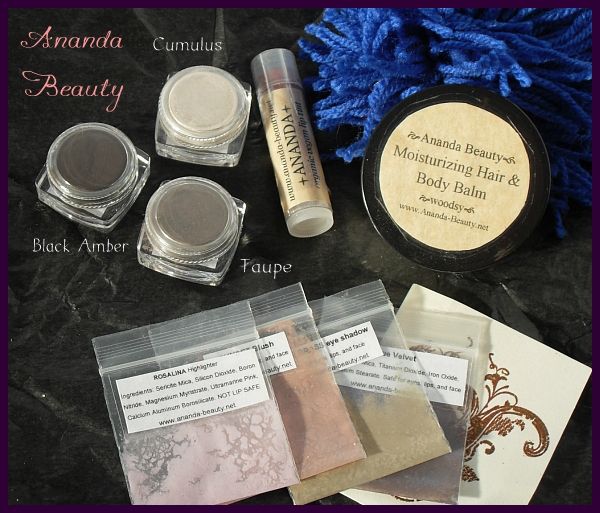 The Hair & Body Balm is marvellously thick, and once warmed between my fingers and smoothed on, made a difference to my dry ends. The Woodsy scent, with cedarwood and patchouli, is a delight. The only eye product I've used so far is the Taupe Eyeshadow, and I was pleased with its colour payoff and longevity. Here are some swatches!: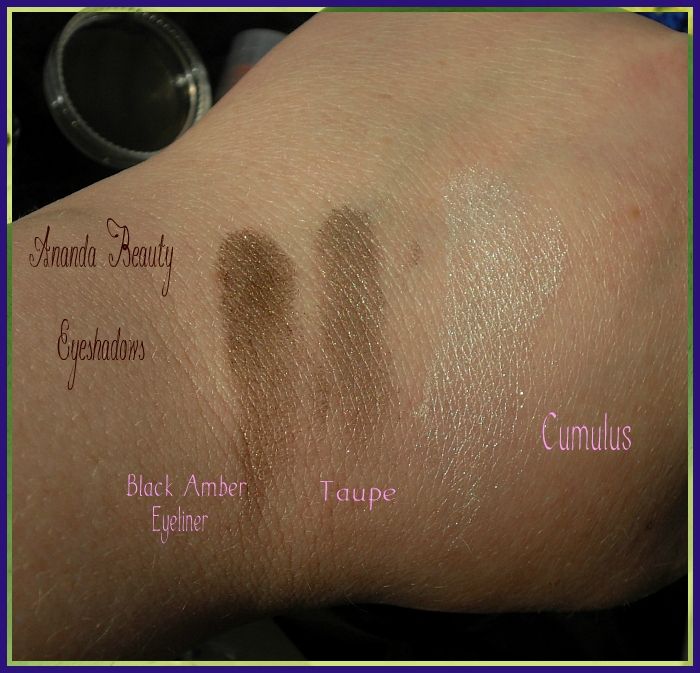 Photo taken indoors in sunlit room.
This was my first purchase of beauty products from Etsy and from an indie beauty brand. I was very happy with my experience and would definitely purchase from Ananda Beauty again.