It seems I've got Bonsai fever proper now, and I've been itching to get more in the last few months. Finally yesterday I gave in and bought this. It's a
Callistemon Salignus
, a Willow Bottlebrush:

It was in the Tube Stock section at Bunnings. I'm such a noob, I don't know if those couple of curled leaves are a problem or normal, but there's lots of vigorous growth at the top, so hopefully I made a good choice.
All the materials needed for re-potting and wiring:
My workbench is a display stand (?) that we found in the garden when we moved in.
I decided to attach the wire to the bottom of the pot for extra stability, and added some standard slow release fertiliser.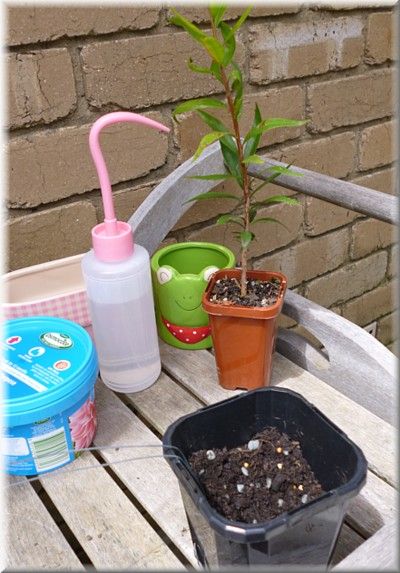 The poor little thing is a bit pot-bound, so I'm glad I decided to re-pot straight away. It took me a while to tease out the roots, but I finally got a nice spread. I'm using standard 'Premium' potting mix.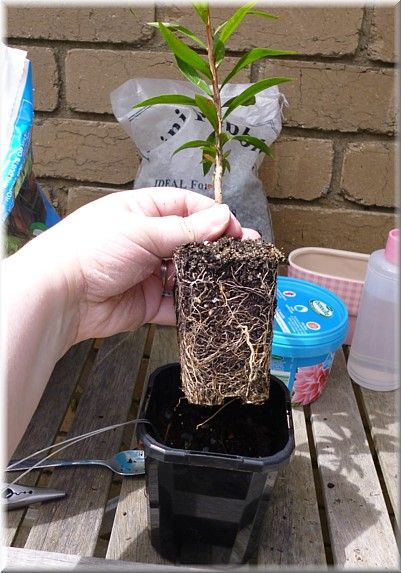 Now the wiring begins.
Self-Confessed Noob Mistake #1
: (I'm sure there will be several more in future.) I used the wrong type of wire. I just grabbed the first wire I saw at Bunnings which happens to be fencing wire. Aside from being a garish silver colour, it's very stiff and difficult to bend. My hands were sore by the time I was only half-way up! I'll get some proper bonsai wire to use next time, I promise!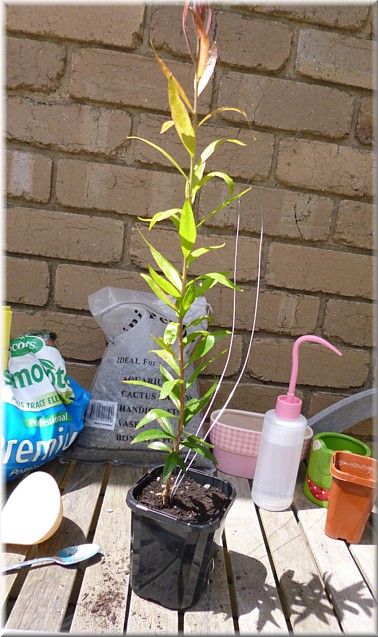 Now, how to style the little one? The trunk is still very flexible. I looked at some Bottlebrush bonsai online and they all seemed to be brush or multiple trunk. However, I noticed a slight undulation which you can see in the photo above. (Above photo is of the back.) I decided to take advantage of this and ... voila!: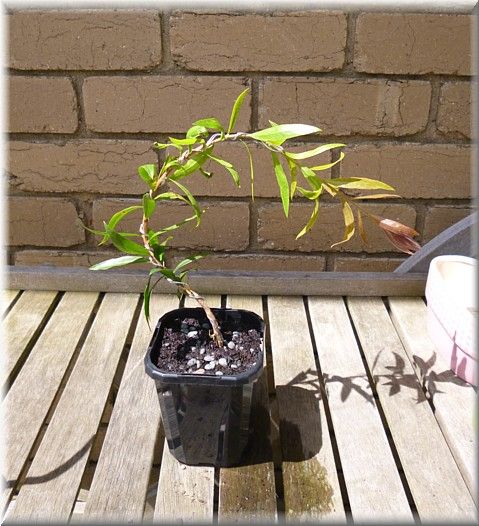 So it seems the little one may be a windswept or perhaps semi-cascade style in years to come. I think after its first wiring is a good time to name bonsai, so I named this little girl
Minami
which means 'South' in Japanese, a nod to the fact that the Bottlebrush is a Native Australian plant, from the Southern Hemisphere.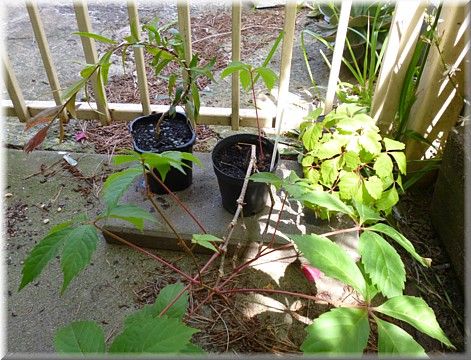 I put her in the same sheltered spot where I'm keeping the creepers Husband and I bought at the Bonsai exhibition a couple of earlier this month. At centre is Husband's Virginia Creeper and at right is my Japanese Creeper (aka Boston Ivy). We've decided to leave them as-is until next year, but there's a taste of what they have to look forward to.
I think one of my next priorities might be a nice stand to keep the plants on!