I can't help but think that 2009 has gotten off to a bit of a shaky start for me. Shocks, stupid mistakes, annoyances, disappointments and physical injuries seem to be the order of the day lately. The shop's been as dead as a dodo. But I'm not surprised, it being post-Christmas and the economic you-know-what. I decided to re-start my exercise regime proper, and perhaps even do one of those Couch to 5km thingies, and the very next day I fell over and hurt 4 areas of my body all in one go (actually, it would have been kinda impressive if it wasn't so painful). According to my chiropractor I also knocked my pelvis out of alignment too, so I guess that makes 5 body parts! Go, me!
My quest to turn my blog into a book using the Blurb software is going very slowly. There are a lot of little annoying hiccups with it, e.g. when you try to change the font of a section of text, only random parts of it change and you have to go through and check each line. But whenever I press the 'preview book' button, it looks oh so pretty, so I slowly persist.
One thing I wanted to do was finish an old project, and on the weekend after New Year, I finished this: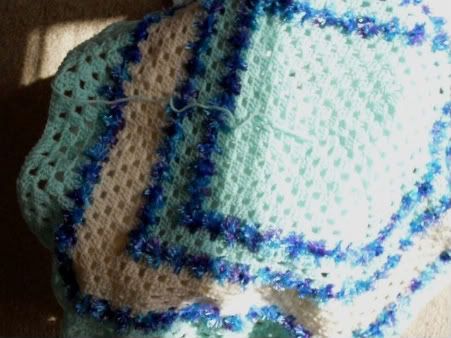 Sorry about the terrible lighting. I'm experimenting.
It's one of two (possibly three) cat blankets that I'm making to donate to the Lost Dogs' Home (yes, they do cats too). See that short piece of yarn coming off the edge of the blanket into the middle? That's how much yarn I had left over when I finished. It was touch and go there for a while. Thrilling stuff.
I've also been working on a new concept. A few weeks ago I bought all 3 issues of
Hoopla zine
in one go. This is a brilliant zine all about craftivism. It doesn't have a huge amount of projects, but lots of articles and inspiration. One was about the quilts that oppressed African American women made which had coded messages in them, and even coded maps showing safe houses and escape routes. I was really impressed by this idea of messages and maps in a hand-crafted item. I don't do quilting, but I'm on an embroidery roll, so I decided to stitch something. Then I remembered that when I was a kid, I would spend all day drawing maps of imaginary deserted islands and mediaeval villages and that sort of thing. I guess it was my way of 'escaping' in my head. So I drew a very simple island, traced it onto some calico and got out the hoop I had been given at the Brown Owls night. The picture shows it inside a plastic pouch I found when I was clearing out some stuff. It's the perfect size. Bonus!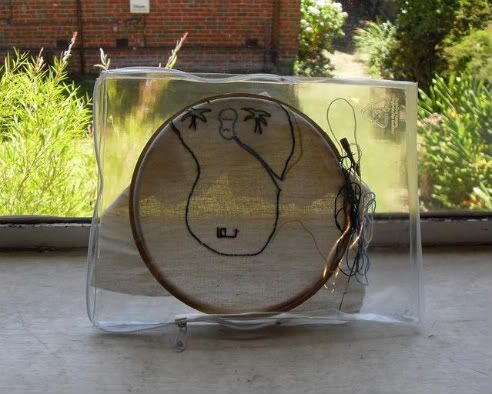 Sorry again about the lighting.
I had enough colours to get me started, but I'll need to buy a yellow and maybe a light green before I can finish it. I'm not sure yet how I'm going to frame it, but I imagine felt may be involved. I think I might call it
Freedom I
. It's a good project to do even in very hot weather.
I also ordered these Sublime Stitching patterns from Etsy. I got them for half-price because the seller is clearing out her real-life store. These were the only four left. She also gave me a refund for one because a mouse chewed on the cover a little bit. And she included this adorable card with a personal message in it. What a sweetie! It makes me want to go to Canada so I can visit the store! Check her out at
Knit-O-Matic
.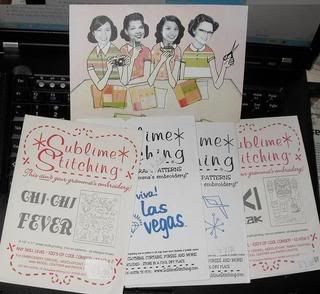 Overall, I feel like I haven't made much progress lately, but I think that's because I've been working on things that aren't tangible. I've been practicing the piano at least 1/2 hour twice a week, and I've been writing my Japan trip zine. I've also become completely obsessed with reading in the last week. And as a symptom of that, I've become utterly fixated on my page at
Lists of Bests
. You choose a list or create one and then start ticking stuff off. Being a bit anal and organise-y, this kind of thing really appeals to me. I've been on this site for a few years, but hadn't looked at it for a while until I was trying to decide what to read next. Most of my lists are to do with books, a couple with movies, and the big one - 1,001 Things To Do Before You Die (customised of course!). I'm finding it a great way to keep track of series of books and movies by certain directors, etc. The only problem is: I'm spending more time looking at the darned site than reading or anything else! =)
To end with, I want to show you a few things I got for Christmas. I was very lucky last season, and I feel very special. Boy gave me (among many other things!) this knitted toy that he bought from the Kris Kringle Night Market in Northcote: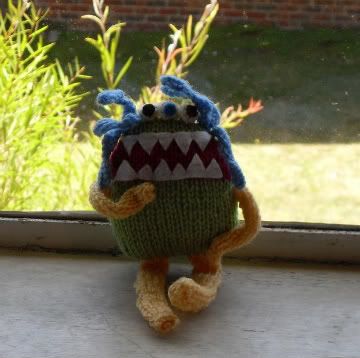 I call him Slurfie! Isn't he adorable? Apparently the woman who made him wasn't very happy with him and didn't think anyone would like him or that he would sell. Boy told her that he knew I would love him, and I do!
Mum got me some gel medium and some acrylic paints - a really good brand instead of the crap I normally buy! I have been using them a little and I really love them.
I also received this from my Kris Kringle friend: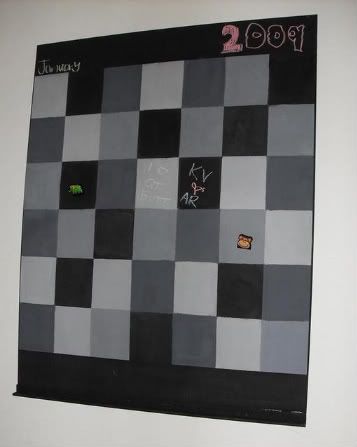 It's a magnetic chalk board calendar! She made the whole thing herself! I am amazed at her talent and persistance, knowing how hard it was. I am truly blessed to have such wonderful friends. I'm (almost) too awed to write on it!