I don't really have too much to say right now. The bushfires were just horrible, and they've left me feeling very sad and helpless. I've been thinking a lot about how lucky I am to have a house, and the things in it, and all my family and friends. Work has been absolutely flat out too. Because I work for a Government department, we are directly involved with some aspects of the bushfire recovery. It has been very draining, and I come home from work every night exhausted. I'm not complaining though - it's been very satisfying to be able to help in some way.
I have managed to make a few things in the last week though. I made this fabric bookmark for a swap on
Swap-bot
. Yes, I know, I've been going on about that site a lot! But it's my current obsession, so just get used to it! =)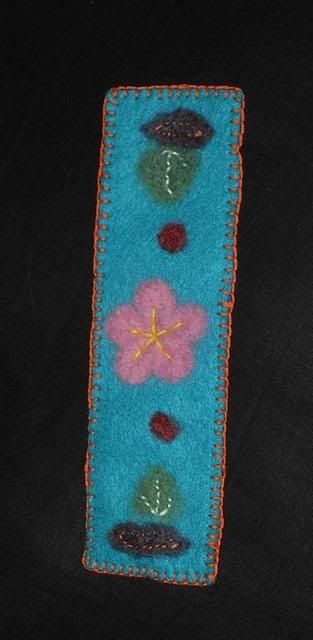 Fabric Felt Bookmark
Once again, I missed the point and made something a bit different to the specifications. It didn't really need to have all that embroidery and needle-felting. But I enjoyed making it anyway.
Then I started making some sewn Artist Trading Cards for another swap. There's also an embroidery on a bought pouch that I'm working on there, too: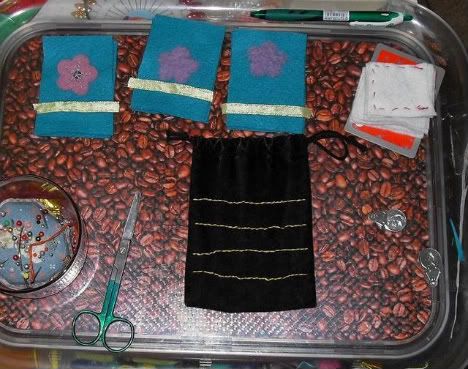 My portable workspace
(ATCs are playing-card-sized pieces of art. They are exactly the same as ACEOs, but you use the term ATC when you are swapping them, and the term ACEO selling them. I gotta get the terminology right!)
I've been working on my stable table (which has a background of coffee beans embedded in it) because it seems to be easier than getting everything out and putting it away again every time I want to work on something. I don't have any free table space anyway. I'm much more inclined to do some work when it seems easy!
I think I prefer using felt rather than fabric for the backing of the ATCs as it doesn't need finishing around the edges. I have cut out a second piece of felt for each one as a backing, and I'll probably blanket stitch around the edge to finish them off as with the first one. I'm a bit stuck at the moment as to what to put on next. Perhaps I should plan them out next time? Today I was looking at the blog
Dot's Life and Art
for inspiration. She is a lady who lives in Melbourne and does the most amazing embroidered and beaded works. I really admire her creativity - and her patience! She has a full time job just like me, but she manages to make the most beautiful, detailed work that she must spend hours and hours on.
I have also been doing a bit of writing this week (though not on my zine, unfortunately!). I've done both creative writing and a biographical piece. I'm not going to share that as I'm not very confident with it yet. Plus it's kinda yawn-worthy on a craft blog.
I was mucking around with the camera this morning, and I took some shots of the cat being schmoozy on the windowsill. On their own they weren't too crash hot, so I found a photo editing website and made them into a collage:

Amy-La
I have more Fabric ATC swaps and a handmade bookmark swap coming up, so there'll be more of that next time, probably.
Take care everyone.