I've declared this month Finish A Project Month!
(It was nearly going to be No-Buy Supplies Month, but I'm just not that strong.)
I noticed that I was cycling through new projects pretty regularly, while the old ones lie, languishing in the back of the cupboard. They really need to be dusted off and given some love.
Here we have my set of three embroidered Art Cards which I finished yesterday: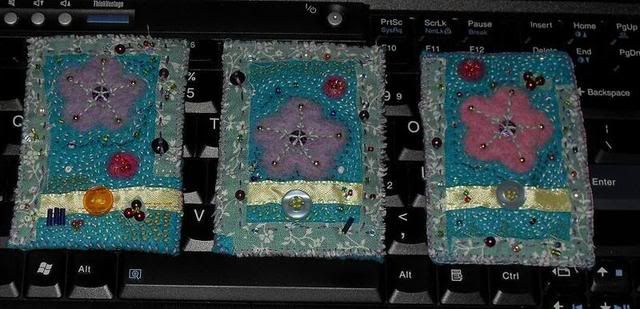 flowery
(A new project, I know, but I haven't gotten started dusting yet!) Some are for swaps on Swap-bot, and I'll probably chuck the spare one on Etsy if I can get a good photo of it. I've already started a new set of 2. I also made these bookmarks for another swap: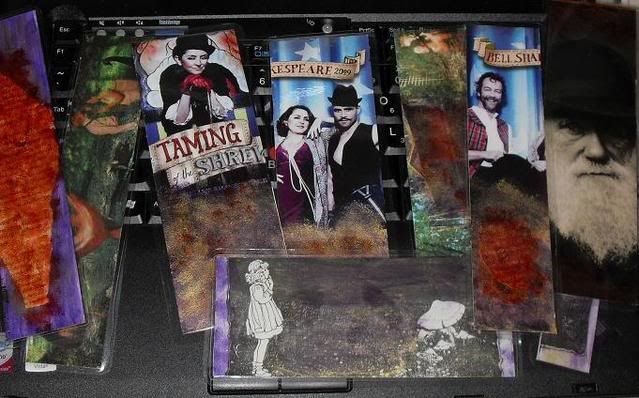 Bookmarky goodness
The idea was to make them with stuff you have lying around the house. Materials include paint, a patterned paper bag, a brochure for the Bell Shakespeare Company, and a copy of National Trust magazine. I'm quite proud of some of them.
Yesterday we all left work early due to the possibility of the trains being cancelled due to a storm (I work for the Government, okay??) and I was a bit bored. I was listening to some craft podcasts and got inspired by what I perceived at that moment as a lack of receptacles in my bedroom. So I made these: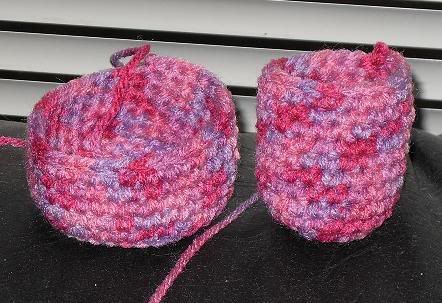 They're crocheted bowls (not quite finished yet). I made them to keep bobby pins in. The taller one falls over when I put bobby pins in it, so I made the wider one as well. They're OK. Now I have an (even more) insane amount of projects on the go.
More in progress means more to finish! Yay!