Sorry about the lack of posts lately. I actually wrote this one up at the start of the week and forgotten that I hadn't actually posted it until today. Oooppps.
I mentioned a while back that I wanted to do a major overhaul of my craft projects. Finally, it has begun!
The one-third-finished Mohair Beret from the Cleckheaton book I won at the Knit-In-Public day two years ago?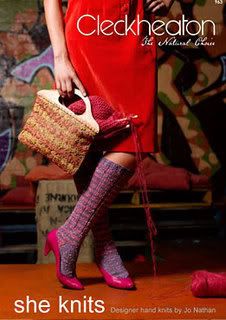 Why on earth did I ever think I'd wear a
beret
??
The Heirloom Baby Blanket that I haven't worked on for a year and can't remember what row I'm up to?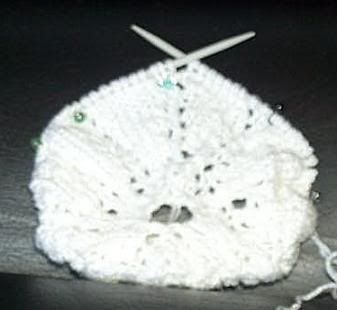 What a giant pain in the butt!!
The half-finished Elizabeth Zimmerman Baby Tomten Jacket that I was once so enamoured with?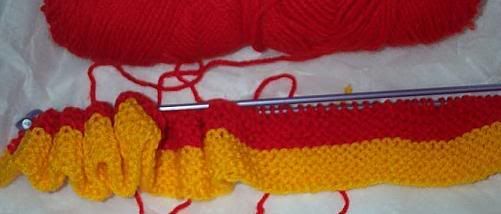 As if I'd ever finish that, with all those loose ends to weave in!!
That last one was the hardest. I was almost half-way through the knitting. (That picture only shows the beginning - I had actually knitted about 120 rows.) It's a shame to waste so much work. But then I looked at it again and realised it would be ridiculously too big for a newborn baby. That annoyed me. So..... RIP!
I turned the blanket into a jacket, and I turned the jacket into a blanket. That gave me a perverse sense of satisfaction.
I'm still making an Elizabeth Zimmerman Baby Tomten Jacket, but now it's in the Panda Baby Lustre that I was using to make the old blanket. I'm calling it the Snow Elf. I'm using 3.25mm needles instead of 4mm, so it should be much smaller and more suitable for my new niece/nephew.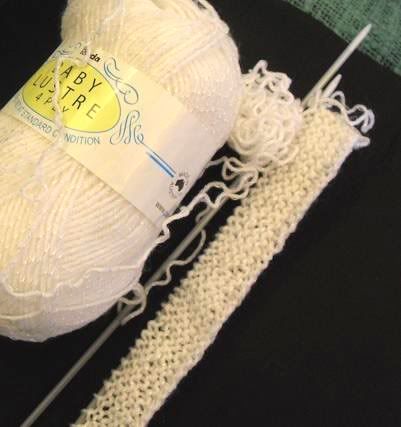 The Snow Elf, in its infancy.
I still wanted to make a baby blanket, but a simpler, less annoying one. I happened to have a copy of Jan Eaton's
200 Knitted Blocks
just lying around. I'd borrowed it from the library on a whim and it just happened to be the perfect book for what I wanted to do. Serendipity! The great thing about this book and its sister
200 Crocheted Blocks
is that you're basically designing your own piece. Along with the 200 patterns (each of which is for a 15cm square), there is a section on combining textures, colours and shapes, and one on sewing them together and finishing them with various edgings. The sample blankets are amazing and quite drool-worthy, but the way they are presented - not as a finished blanket, but as a series of squares next to each other - reminds you that it's really your choice to combine the squares in any way and any colour you choose. It was very exciting! I chose Block No. 17 Checks and Block No. 83 Heart In Frame, and designed the Your Chequered Heart baby blanket.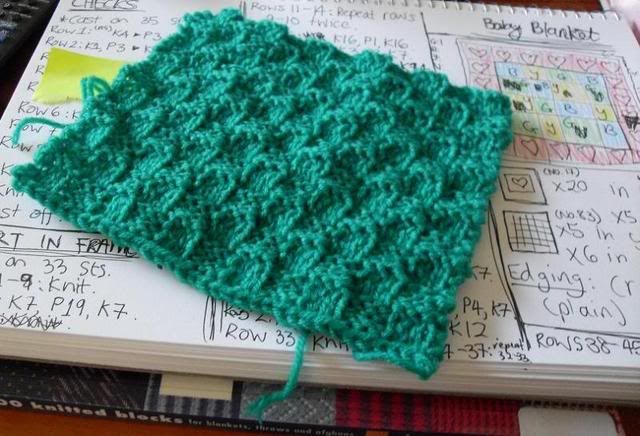 The first block off the rank.
I will have to knit 36 squares, sew them all together and add an edging. It's a little daunting, but it's a hell of a lot less daunting than that white, lacy, double-stranded nightmare on circular needles and bristling with stitch markers that I was confronted with before. I actually do like the
Henry's Baby Blanket
pattern, but my head's just not in a place where I can cope with it. I'd like to give it a go one day, though.
Finally, the old beret is now this: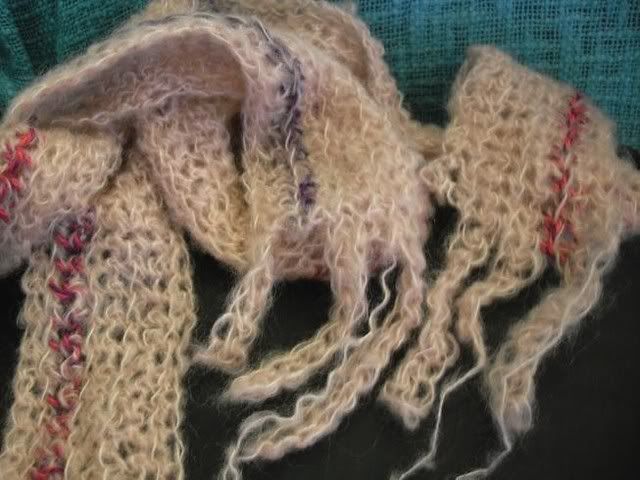 Fuzzy!
It's a skinny scarf that's *very* loosely based on one I saw on
Etsy
. The original is knitted, not crocheted, and it's made sideways, not lengthways, and it has even ends, not a stepped ends, and it's orange, not pink. So yeah, I can see the resemblance! I'm pretty happy with how mine turned out. The only disappointment is that it's way too hot to wear a mohair scarf now. But come winter, I'll be all scarfed up!