It's December today, officially the start of the holiday season. I don't normally start doing Christmassy things this early, but in the last few years I've been getting back to my Dutch roots and doing a few things for
Sinterklaas Eve
, which is on 5th December. I won't leave out a shoe full of carrots and a glass of brandy for St. Nicholas and his horse as is the tradition in the Netherlands - I might end up receiving a shoe full of coal from Zwarte Piet instead of a present in the morning! But food is a deep part of culture and tradition, so I did some baking!
Today I made traditional Dutch biscuits Pepernoten. I've made Pepernoten before and
posted the recipe here
. Today I'm doing more of a photo-essay.
First I mixed together the flour, brown sugar
and spices. The spices all smelled so wonderful. Scent is so powerful and it
brought to life many memories of Christmases past.


Next I cracked 2 eggs, added some orange essence, and poured the beaten mix
into the flour. I always float the eggs in water to see if they're fresh
before I start working with them.


The dough is dry and crumbly at first, and I always get worried that it won't come together. Just at the last moment though, it amalgamates and actually becomes sticky. Naughty dough for worrying me like that!
The scent of the spices mixed with the orange fills the whole kitchen and makes me think of the clove-studded pomanders I made as a kid.


I started rolling the dough into small balls using damps hands so it didn't stick.
Husband suggested I try using one of our cutters to make heart-shaped pepernoten.
It was a stirling suggestion - they came out beautifully!


Rolling the dough balls with wet hands leaves them with a thin sheen of water
and a shiny appearance. Being slightly wet helps to make the pepernoten nice
and crunchy when they're cooked. I believe that artisan bakers spray their
bread with water before cooking to make a hard, chewy crust. Gastronomical convergences.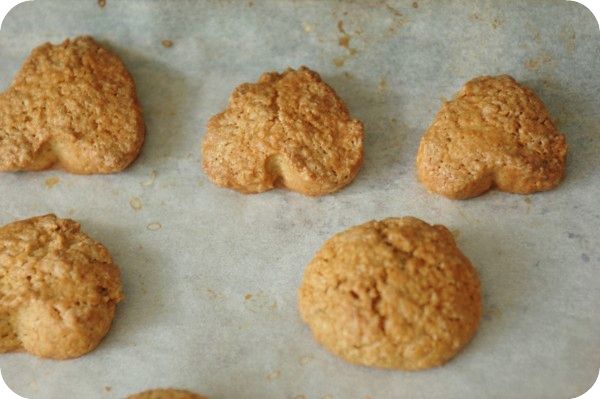 The pepernoten have turned out perfectly! The house smells spicy and festive,
and I have a box full of treats to share.
Time to put up the Christmas tree!
I hope you enjoyed my short cooking adventure. I'm already planning more, so stay tuned!