Last night I went to the
Perfect Potion
Christmas Party / VIP Night. Perfect Potion is an Australian small business specialising in essential oil blends and skincare products. All products are strictly certified organic and environmental concerns are at the core of their ethos. The founder is very passionate about quality and the therapeutic effects of essential oils; this was immediately apparent when listening to him speak about the products.
Picture Source.
Unlike some other VIP Nights I have been to recently
(*looks sideways at a certain tea shop*)
, the whole atmosphere was very relaxing and welcoming. The space was not overcrowded, there were plenty of drinks and nibblies for everyone, and the ratio of staff to customers was low enough to allow us to ask questions and have a chat.
I went there intending to purchase one or two things for myself, and for Husband to give me for Christmas, but I ended up buying all this:
The Noel essential oil was definitely already on my shopping list. I miss the smell of real Christmas trees from when I was a child and I have a feeling this will be the perfect substitute. I'd considered getting the book and perhaps one or two other items as well, but the atmosphere was just so lovely and fun that I couldn't help myself. I might review some of the products later on, especially the hair serum, as I want to embark on a mission to take better care of my hair in future.
As well as champagne and really good vege-chips and dip, there were door prizes -- and my number was drawn first! I won the Noel-scented candle. I was very chuffed. Along with the essential oil blend and soap, I now have the full Noel-scented set.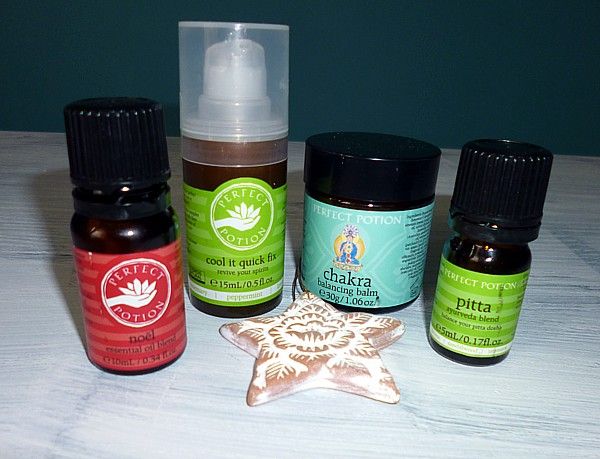 I regretted having to leave before the speeches ended, as it was very interesting listening to the stories behind the products. The whole experience was really lovely, and made me eager to return in future and secure myself many more of the beautiful products. I've been to several VIP Nights in the last few years, and if they're well-done, they can give a huge boost to the reputation of a small business. If the customer has a good experience, then he/she will remember it for a long time to come. I know I will!
I've had my doughnut oil diffuser for a few months now,
but this is its debut on the blog. =)