Welcome to the first of a 10-part series on Trends in Craft. Since I joined Etsy two years ago, I've noticed there are certain themes and motifs in craft that are insanely popular. Some are cute, some quirky, and some are in fashion seemingly for no reason whatsoever. I thought I'd start with what is quite possibly the number one theme of the last couple of years - Cupcakes!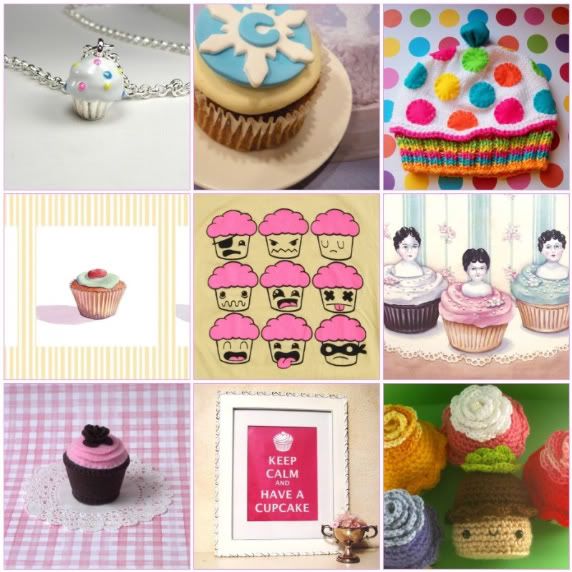 I've never made cupcakes myself, and I rarely eat them, but I really can see the appeal. They're small, rounded and colourful, and therefore cute. Their round shape and simple lines make them relatively easy to reproduce in knitted, crocheted or illustrated form. They can be decorated with an almost infinite variety of embellishments to suit the occasion: holly for Christmas, pastel colours for Easter, a candle for a birthday, etc. Plus, anything with icing on it is a good thing, in my books!
CREDITS:
TOP:
L:
Cupcake Necklace
by
A Jewelry Boxx
.
C:
Christmas Snowflake Monogram Fondant Cupcake
by
TwoSugarBabies
.
R:
Confetti Cupcake Newborn Hat
by
NinisHandmades
.
MIDDLE:
L:
My Little Cupcake Collection
by
babychickdesigns
.
C:
Cupcake T-Shirt
by
KillTaupe
.
R:
Cupcake Girls Original Art Print
by
jennysbakeshop
.
BOTTOM:
L:
Mini Pink Frosted Dark Chocolate Plush Cupcake with Rose
by
cherylasmith
.
C:
KEEP CALM AND HAVE A CUPCAKE Print
by
jennysbakeshop
.
R:
Minty Chocolate Amigurumi Cupcake
by
anapaulaoli
.