Subtle Stripe Scarf
by Katie Theodorus
This pattern came about because I wanted to knit a scarf for a male friend using two different colours, but I didn't want to make an ordinary striped scarf. I wanted it to be more ... subtle. The pattern is so simple that it barely even deserves to be called a pattern, but I will lay it out for you anyway! The only requirements are two different colours of yarn, and appropriately sized knitting needles. Smooth (not novelty) yarns are recommended. After the pattern I have shown some samples with different combinations of yarn.
Materials
Main Colour (MC), approximately 100 grams
Contrast Colour (CC), approximately 30 grams
pair of straight knitting needles (size depends on thickness of yarn)
Pattern
** Using MC, cast on in the method that you prefer. The scarf can be any width that you desire.
Row 1: Knit to end.
Row 2: Pick up CC and knit using both strands held together. Knit to end.
Row 3: Drop CC and knit to end using MC only.
Row 4: Knit to end using MC only.
Row 5: You will now be back to the side where CC was dropped. It will now be a couple of rows down, but that doesn't matter. Pick up CC and knit using both strands held together. Knit to end.
** Rows 3 to 5 form the pattern. Repeat until the scarf is as long as you desire - or you run out of yarn!
** Cast off using the method that you prefer. Add a fringe if desired.
Samples
** [Below] This scarf was knitted with two colours of Double Knitting weight
Patons Fireside
pure wool, on 8mm (US Size 11) needles. The yarns are different shades of blue. Because both yarns are the same thickness, there tends to be a little bumpiness on the side edges, but sometimes that rustic effect is what you want. Also, the striped effect is a little more pronounced because the Contrast Colour is more visible.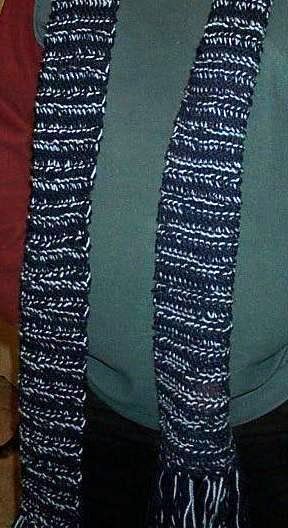 James' Scarf
** [Below] This scarf was knitted with Bulky weight
Patons Inca
alpaca in dark grey as the Main Colour, using 10mm (US Size 15) needles. A light jersey-grey acrylic in Sport weight is the contrast colour. Because the Contrast Colour is much thinner, it has much less effect on the physical bulk of the scarf. The stripes are also less visible and (even) more subtle. Two different shades of grey create an elegant, misty effect.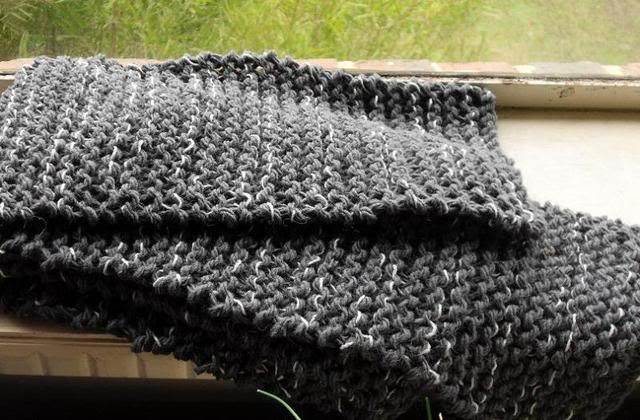 Stew's Scarf
** [Below] This baby scarf was knitted with
Bendigo Woollen Mills Classic
, a Double Knitting weight pure wool in cream as the Main Colour, and
Cleckheaton Baby
nylon Sport Weight as the contrast colour. I used 5mm (US Size 8) needles. This time I knitted it sideways. It shows how a another effect can be created by mixing pastel colours.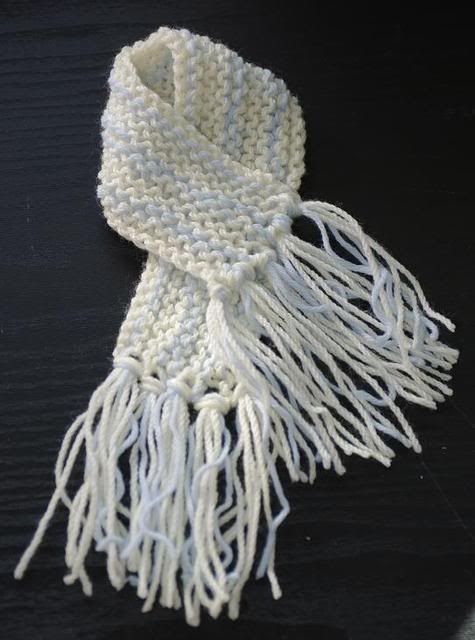 Alex's Scarf (baby)
Experiment
Now you know the basic principle, you can experiment with colours and textures as much as you like!