I had the day to myself this fine, freezing cold winter Saturday. So I made up a long list of Things To Do so I wouldn't get too cold or bored. I tried to make sure the housework was interspersed evenly amongst the fun crafty things, so I could hopefully trick myself into doing it without too much pain.
One of the things I did was finish the Creativity page in my art journal. (Though I guess they're all creativity pages, aren't they?) I started it the other night using the journalling prompt from Suzi Blu's
YouTube video on layering
. I just found out about her, and she's great inspiration. So, for this page. First, you write down all of the reasons why you can't or won't do art journalling. Then you cover it up with paint. I had to put a few layers on before it was all covered up, but it felt good. It ended up being a slightly different colour to what I'd planned in the start, but I liked the reds and yellows - they made me think of the fire and passion of creativity. I used my fingers to dab paint onto the edges. Then I set it out to dry.
Art Journal 18-JUL-09, unfinished.
Today, I got it out again to finish it off. You're supposed to stick a photo of yourself as a child on it, but I don't have any. So on the right-hand side I made a base with white paint that I could draw on, and used up the leftover paint on the left side, where I tried to make more of a raised, textured effect. When that was dry, I drew a polaroid-type frame with a Sharpie, and drew a picture of myself in it. I don't really remember what I looked like as a child, but I did have very long, thick hair which people always commented on, so I drew that. Actually, I don't think the face looks really like either an adult or a child - it has an ambiguous quality to it. But somehow that's appropriate - I'm not really an adult now, and I wasn't really a child then.
I couldn't remember what I was supposed to do next from the video, but then I thought, perhaps that's not such a bad thing. I'll let my instincts guide me instead. So I wrote across the top: "Perhaps from a creative point of view it's better if I
don't
remember exactly how to do it". I had been thinking of putting some blue on for contrast, so I mixed together some sky blue, white and silver paint, and I rubbed it on with my fingers. The finished effect on the left makes me think of steam - as if the creative fire is dissipating all the frozen misgivings and fears. I don't even remember now what I wrote underneath there! Perhaps that's the point.
To finish it off, I mixed the leftover blue/silver paint with some purple, and used it with a squiggly rubber stamp I got from
Riot Art N Craft
a few weeks ago. I love how it looks! It came in a pack of 6 with different textures. They are
Teacher's Choice
brand. I highly recommend going into the children's or school supplies section of any art or craft shop you find yourself in. You can pick up some really great stuff.
Here is the finished page: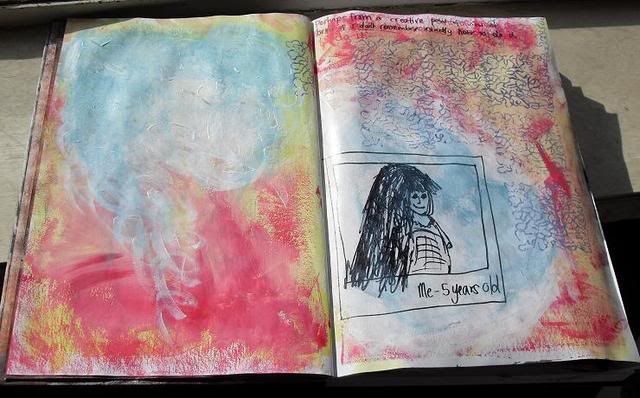 Art Journal 18th - 25th July '09, finished.
Part of me wants to add more to this page. But then again, another part of me wanted to stop after the first, yellow layer of paint. I hate covering up stuff I've done before. It's so hard to decide when to stop. You just have to draw a line and trust that it's in the right spot.
In other news, I bought this last week: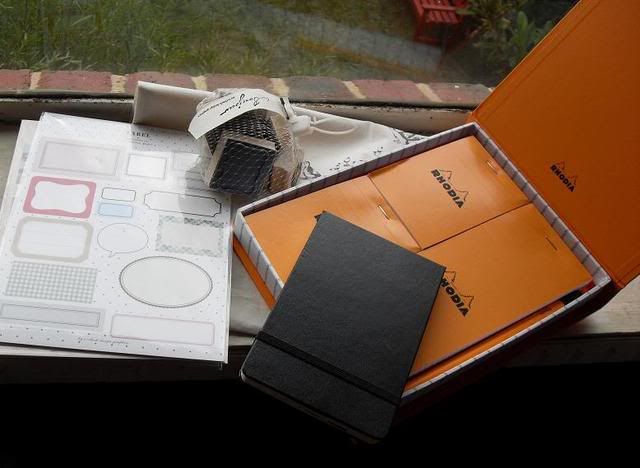 It's my first (and probably not last) purchase from
Notemaker
. Here you see a mini Moleskine notebook (my first Moleskine, yay!), the Rhodia Essentials Box (also a very reputable maker of paper goods - and see how the box the notepads came in looks like a notepad itself!), and for special I also got some O-Check rubber stamps and stickers (a similarly reputable stationery brand from Korea). I have to say, I was very impressed with Notemaker. I had been unable to find the things I'd wanted in any of the bricks-and-mortar shops that I'd had time to go to. This site had them all. Some of the things my heart desired were on sale. And they had free postage over $60 so I added a couple more. Within 2 hours of ordering, I received an email saying my order had been shipped! And I received it the next day!
And
my things came in the lovely free drawstring bag you see in the picture. It's perfect for keeping my rubber stamp collection in. I was really thrilled with this purchase.
I think I'm becoming a bit of a pen and paper snob. I never anticipated it, but it's true. In Japan I saw a little of their aesthetic for beauty and quality in everyday things. I'm starting to realise that money well-spent on quality household items can be life-enriching. Gosh, I love to sit down and write with my
Platinum Preppy fountain pen
! So much so that I wrote this whole blog post out on paper with it before typing it up. And if you don't have the money to buy nice things, then making them yourself is just as special. Even more special, in my opinion. (Which is what I've been saying ever since I started this blog!) Hence the desire to learn how to bind my own journals. One day soon Ill get around to it, I hope!
Meanwhile, this is what I'm doing with my mini Moleskine: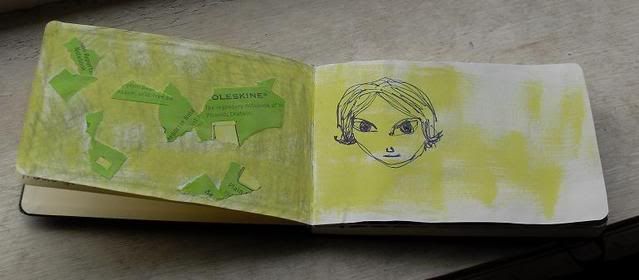 The first page.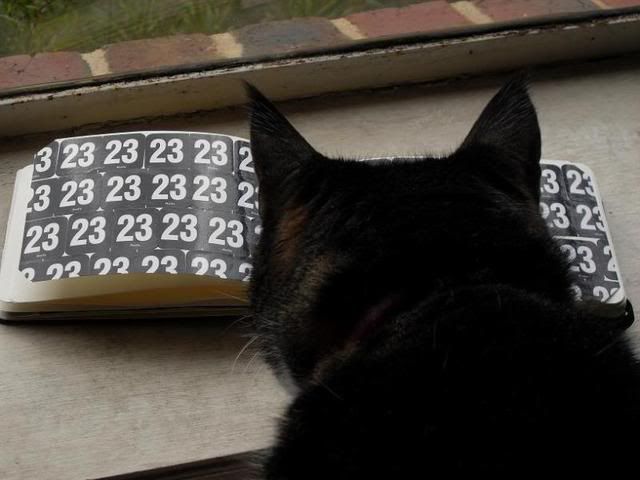 Amy being curious about the sticker page.