Perhaps it's a little late to talk about the Christmas present that I bought for myself, but I love the items I bought from
Sparkle Blue Faery
's Artfire shop so much that I wanted to talk about my purchase anyway.
I bought a handmade journal and a zine about recycled crafts. (The exact name escapes me now, and everything is packed, so I can't check the details.) The zine has some great ideas for re-inventing ordinary household items which I'd like to try. The journal is very high quality and was obviously made with care and love. It's the second one I've bought from Karis, and I'll enjoy using it as much as I did the first. The cover is decorated beautifully: she has a great eye for colour.
She also included some free gifts - some smaller zines, ACEOs and handmade postcards. I was thrilled with these as I love to have a bookmark for each of my special books, and these will definitely fit the bill. The whole came packaged in the most gorgeous parcel, which you can see in the photo peeking out from the edges. I can't describe how excited I was when I saw it in my letterbox!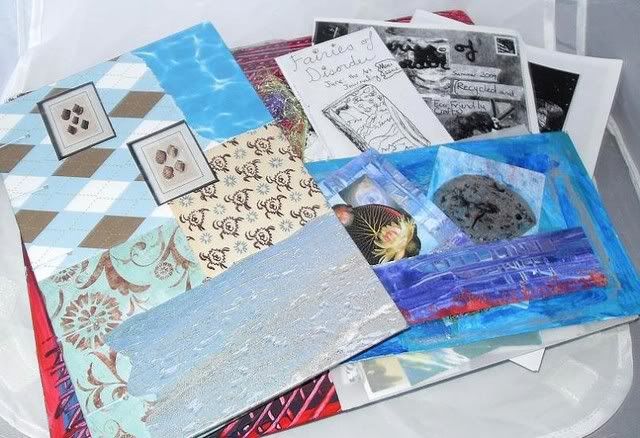 This photo was taken a few weeks ago, in my new photography light tent!
Only two days now til we move house. Then perhaps I can get on with some good, hard crafting!