I'm participating in a recipe swap on the Gingerbread Snowflakes blog, so welcome to everyone who's linked from there!
Today is St. Nicholas' Eve, also known as Sinte in the Netherlands, and it's the most important date in the Dutch Christmas calendar. Sinteklaas and his assistant Zwarte Piet arrive in a boat from Spain on this day. They visit all the houses and leave gifts for the children - but only ones who've left out a glass of brandy and some biscuits, and some hay or carrots for St. Nicholas' horse. Today I baked
Pepernoten
, from a recipe that my Oma told me when I was a kid. So here it is, straight from her brain to you!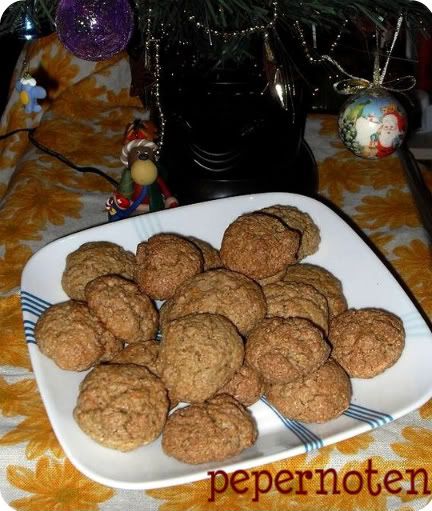 Ingredients:
2 cups plain flour
1/2 teaspoon baking powder
1/4 teaspoon ground cinnamon
1/4 teaspoon ground nutmeg
1/4 teaspoon ground aniseed
1/4 teaspoon ground cloves
1 1/4 cups brown sugar
2 large eggs
1/8 teaspoon orange essence
2 tablespoons milk
What to Do:
1. Preheat the oven to 180C / 350F. Sift the flour, baking powder and spices together.
2. Add the sugar and stir.
3. Crack the eggs into a separate (small) bowl. Add the orange essence and beat lightly.
4. Add the eggs to the dry ingredients and stir thoroughly. The dough will still be very dry and flaky. Gradually add the milk and keep stirring until a soft dough has formed.
5. With damp hands, roll the dough into balls about the size of golf balls. Place them on a baking tray lined with baking paper (greased paper). It's OK to put them close together because they won't spread.
6. Bake until lightly browned, approximately 20 minutes. Let cool on a wire rack. Wait until cool to eat. The biscuits will be slightly hard and crunchy on the exterior. This is why they're called "peppercorns"! Makes approximately 24.
Notes:
* If you smell the raw dough, the spicy, orangey smell is just amazing, I think. This is truly what Christmas smells like to me. I guess we made them a lot when I was a kid!
* The four spices in this recipe are very common in Dutch cooking. You can buy them already mixed in Dutch supermarkets, where they're known as 'Speculaas Spice'.
* The original recipe calls for 2 tablespoons of finely chopped candied orange rind instead of orange essence. I don't like bits in my pepernoten, but you can certainly give that a try.
* The original pepernoten are half the size of these ones, but I normally can't be bothered rolling that many. If you do make them the traditional size, this recipe should make about 60 and they should be about 2cm / 3/4inch across.
* Yum!